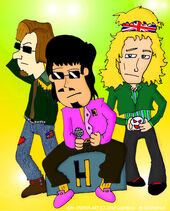 Love Harder is a band in the AJM STUDIOS Comic Grocery Store 101.
Vaughn Lionel is a character in the AJM STUDIOS Comic series Grocery Store 101.
Vaughn was a member of the band Love Harder, which was lead by Marty Shoeman. Vaughn is a guitar and bass player in the band. He is also back up vocals.
When Grocery Store 101 first see's Vaughn, besides in a flashback, he runs a hot dog stand.
According to the series, Vaughn's full time job is unknown, because it is assumed he does not work full time at a hot dog stand. He rents housing as shown in the episode, "The Love Harder Revival," when he says he needs to pay rent. He also is divorced because he states he has an X.
Facial Appearance
Edit
In the past posters and pictures shown of Vaughn Lionel, he had long hair and a chin goatee. When seen again in the series, after X amount of years from the poster pictures of him, Vaughn has brown hair still, but has a added handle bar mustache.