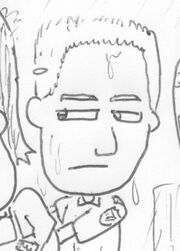 Ryan Collins is a officer for the Greenwood Police Department. He is a character in Grocery Store 101.
Often deputy Ryan is seen with Sergeant Richard Williams. They visit Mr. Grocery's Store often. Richard Williams appears to have a good relationship with Bruce Grocery and even gets discounted donuts.
Confused Identity
Edit
In a lot of promotional pieces and work done for the series, Ryan's last name is often mixed between Collins and Baker. It is unknown as to why this is, and is a mistake by the company. The original character designs for Ryan had placed both of these last names to be used, it was up to the artist to choose one when the series was finally released. The final last name picked was not properly advised to the advertising department. It is official, Ryan's last name is supposed to be Collins.
Appearances
Edit
Donuts - Mentioned by Sergeant Richard Williams but not seen.
Sergeants Visit
The Life of A Health Inspector
Glacier Lilly Festival
Shoplifter
Ryan has never said a word in the comic series.