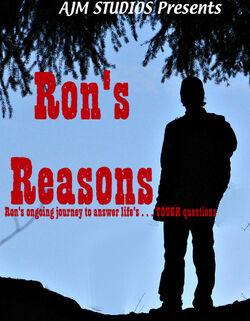 Ron's Reasons was started by website member Ron, following nearly a year after the closure of his famous Ron Reports. The thread has topics created by Ron that vary on subjects. He often asks questions and gives his view on things. It can be compared to a blog. It was created on May 20, 2009 after nearly a year of advertising and speculation of a new thread being created by Ron.
Catch Phrase
Edit
The creation of Ron's Reasons started with the catch phrase and often promoted the phrase "Ron's ongoing journey to answer life's . . . TOUGH questions."
Reception
Edit
The majority of the reviews for Ron's Reasons is high, but the main drawback in late 2009 into 2010 was the lack of updates to the series. When the series first came out in 2009, it recieved high reviews, with good quality on the updates. Reviews were high enough that a second installment for the series was opened on February 17, 2010.