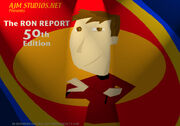 Ron's Lounge is a board on AJM STUDIOS where the famous Ron Reports are posted. This board has the most posts of all the boards on AJM Studios. With over 50,000 posts it is the center of AJM STUDIOS posting, making up nearly half of all the sites other boards. On 3-29-08, the number of Ron Reports in Ron's Lounge finally hit 50! On July 29th, 2008, Ron's Lounge and the Ron Report ended a legacy to be replaced by Killa's Zone, and the Killa's Krib series, which was a spin-off series.
The Ron Report Room is located on the 22nd floor of the AJM STUDIOS Building, and partially the 23rd floor. The room had a grand entrance with a large 80 inch screen TV, seating area, and a fireplace. There is one bathroom on the 22nd floor. Stairs lead to the 23rd floor section of the room, and it overlooked the 22nd floor portion of the room. There was no door onto the rest of the 23rd floor from the upper tier of the Ron Report room. This second tier had a large kitchen, as well as seating overlooking the lower floor.
The door to the Ron Report room remain locked electronically and by manual key. Only AJM STUDIOS administration have clearance to enter the room currently.