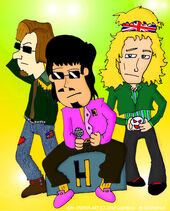 Love Harder is a band in the AJM STUDIOS Comic Grocery Store 101.
The band plays music that sounds like music from the 1980's. They played rock songs and had long power ballads. One song lasted 23 minutes according to Marty. Marty Shoeman was the lead singer for the band. Marty has said the band got "smaller then large fame."
Only one song made it to the top 100 according to Marty. Love is My Alcohol placed at spot number 98. It is assumed now that the band has disbanded.
The band was first mentioned in the episode, Love Harder.
The name is likely an homage to Love Handel from the Disney show Phineas and Ferb.
Band Members
Edit
Marty Shoeman - Lead Singer / Guitar
Vaughn Lionel - Guitar / Bass
Austin Piccard- Drums
Only a few songs were mentioned that the band had.
I'm Crying You a River
I Like Hair Bands and Tofu
Live it Like You Are a Corporate Excecutive
Love Is My Alcohol