Killa's Krib is the successor to the famous Ron Reports. It is located in Killa's Zone. It is considered AJM STUDIOS.NET's premier chat destination as of 2008. The series was created by Killerboy. The series has garnered over 40,000 views.
After the closing of The Ron Reports in early 2008, USAPatriot choose Killerboy to take the reigns of the next premier chat series on AJM STUDIOS.NET, and gave him a 10 thread contract to see how things worked out. The series opened on October 31, 2008, on Halloween and held the AJM STUDIOS annual Halloween party. The opening and Halloween party were a success for the grand opening of the seriies, but beyond that, the series started out with a significantly lower view count. After ten threads, the series was by no means the success that The Ron Report was, but it still got views and posts. In it's most prosperous year, only eight Killa's Kribs were made, which was significantly less then the Ron Reports.
Killa's Krib Room
Edit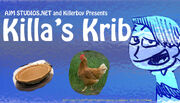 The Killa's Krib room is located on the 29th floor of the AJM STUDIOS Building. The Killa's Krib room is made up of seven areas. It features a large living room which serves as the main area. Similar to the Ron Report room, the Killa's Krib living room features a large big-screen TV with a sitting area. The other six areas of the Killa's Krib are the kitchen, game room, party room, art gallery, lounge area, and the pie and chicken vault. A door from the living room leads onto the balcony.