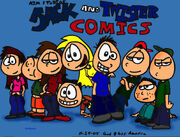 Jack & Twister Comics was the longest running AJM STUDIOS comic series created and drawn by USAPatriot, creator of the well known AJM STUDIOS Comic and internet powerhouse, AJM STUDIOS.NET. The series made it's debut in 1996, and had been pumping out comics to till 2011. 
1996-1999
Edit
In 1996, the creation of the first three characters was made, Jack, Becky, and Max. "Mystery Kids" was born. Jack being the main star followed by his sister, Becky. In the early days, Jack was more calm, while his sister was the funnier of the two. Their dog, Max was a main character too, being their main hound. The comic was released in Picture/Text Comic format, in books. It followed Jack, Becky, and Max through their funny adventures. As the series progressed, more characters were added, and Twister, more recently just called Twist for short, became Jack's best friend and took the spotlight from Becky more and more. In 1998, the series had a name change, and focus change. The series became known as "Jack and Twister Comics" Comics, not in picture/text books format were made. It was not until 2000 did Picture/text comic books were released with the "Jack and Twister" name.
2000-2006
Edit
Becky was no longer a main character, but more of a side character, as the new adventures followed Jack and Twister in their many crazy adventures. Max the dog, was still in the comic, but not prominent. In 2002, Picture/Text comics books were the prime way of publication for Jack and Twister Comics, but this high slowed in 2003, and really slowed in 2004 with the end of Picture/text comics. The new top way of publishing Jack and Twister Comics was through simple comic panels. This trend expanded to a high in 2005, and has experienced a steady stream till 2009. 2010 saw the reduction in the amount of comics this series produced.
2006-2010
Edit
An estimated 400 plus comics have been released. In 2008, the comic slightly changed the name from "Jack and Twister Comics", to "Jack & Twister Comics." Sadly, most record of "Mystery Kids" have been lost over the years. Only a few early drawings of Jack, Becky, and Max are around. But thankfully, since 2000, all record of the comic series is kept safe and away from harm for generations to enjoy. 2009 and 2010 were the start of less Jack and Twister comic being released. The studio focused on multiple other comic series.
Character Progression
Edit


The plot of the Panel Comic version of Jack & Twister Comic's caries with each comic. It often follows Jack and Twister, or the characters singly. The plots have changed over the years as the characters have aged. In the early years, Jack was oblivious to the people around him, and often faced bullying by Willy and Mack. As the series progressed, and the characters aged, new horizons were open such as characters getting jobs and learning to drive, and facing silly little relationship issue's. There is no steady relationship among any character in the series, and often if is seen as a joke when Twist continues to lose girls. Willy is still looked upon as a bully, but in a more "jerk" fashion then beat someone up. Mack has moved on, and appears to be "clean" in the series, no longer being a jerk to Jack or anyone else, he even wears a collared shirt now. Becky has a job at Vacuum Hut and can drive, as well as Jack and Twister can drive. Their age's have stoped at around the 16-19 age, and USAPatriot the creator says it will finally stay there.
Another major twist in character progression is how some characters developed differently in the panel comics compared to the picture book stories. For example, in the picture book stories, there was a whole array of bullies in Jack and Twister's neighborhood, yet only Willy made it to the panel comic series as well as Mack. Mack, Willy's best friend and right hand helper, became clean and stopped his bully ways in the panel comic. Sarah, Willy's third in control made no appearance in the panel comics! Other bullies were never seen including Alex, James, and Chuck. Pinky, who was often seen as the worst bully of all, who often competed with Willy, was never mentioned of seen in the panel comic series.
Publications and Distribution
Edit
Jack & Twister Comics have three forms of publication.


The first was in picture/text comic books. These picture/text comics were full page drawings with comic book bubble balloons for text. They were binded together and formed books. The last of these types of publications was done in 2004. The last book was titled "Deep Sea Terror." The books had plot lines and stories. They reader would simply turn page by page and enjoy the story that was told through the captivating pages. Each year had a Christmas special as well as other specials. "Christmas Danger" was the first of these types of publications to be made in 2000. A total of 84 books were made in this form of publication. Before 2000, Jack & Twister was called "Jack & Becky Mysteries", which started in 1996, and followed this style of publication.
View a List of all the Picture/Text Comic Books here.
Panel ComicsEdit
Like the panel comics you would see in your daily newspaper, Jack and Twister are best shared, and well known for their over 400 plus comic strips. Record of most before 2000 are vague and or lost, but after 2000, they have all been kept safe.
Record of Jack & Twister Comics do not have a permenant home online, and can only be seen in few at AJM STUDIOS.NET Discussions have been made to make them more easily available online, but not much has happened.
Other Publications
Edit
In 1997, the Seattle Times published a Christmas picture featuring Jack and Twister, and other townsfolk in it.
Through an arts program in the late nineties through the city of Edmonds, Washington, a comic featuring Jack was released called, Cartoon Attack.
Jack and Twister were shared through a school paper called the, Eagle Eye in Bothell, Washington.
Through an arts program in the early 2000's, through the city of Edmonds, Washington, two separate comics featuring Max and Dog was released. It was the only comic series in the book to have two strips in the publication. The theme of the cartoon book was animals.
Jack was released on campaign posters for a high school political election. It depicted Jack terrorizing a city as a giant.
Jack and Twister were shared through a high school newspaper called the, Eagle's Nest. It was viewed by students in Bothell, Washington.
Jack & Twister Comics Characters
Edit
There are over 50 characters and people from within the neighborhood in the comics easily.
Primary CharactersEdit
Secondary Characters
Edit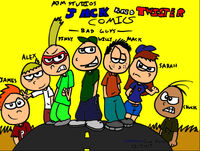 Joey Carter - Kid Becky babysits
Krissie - Twister's cousin
Max - Jack and Becky's dog.
Mr. Bore - Jack and Twister's High School History teacher
Mr. Happy - One of Jack and Twister's High School History teachers (Never explained why there are two history teachers)
Nate - Becky's co-worker at Vacuum Hut
Ricky - Becky's boss at Vacuum Hut
Sheen - One of Jack's friends
Steve - One of Jack's friends
Minor Characters
Edit
Allison - One of Twister's dates, and a cheerleader
April - Hangs around Mack in the hallway.
Dog - One of Jack's pet dogs in the Panel/Text Comics
Jamie - Went on a date with Twister
Twister's Dad
Twister's Mom
Kate - One of Twister's dates, works at Bulls Eye.
Mrs. Carter - Joey's Mom
Super Dan - A recurring super hero on TV, comic books, and video games.
Oddities About The Characters
Edit
Very few characters ever have a last name said, with the exception of a few like teachers (Mr. Happy, or Mr. Bore) but in that case, we never know their first name. Mrs. Carter is Joey's Mom, which leads us to Joey being the only character we know the first and last name of in the whole series, Joey Carter.
Sheen's shirt has a darkened "W" with a white "M" on his shirt. It does not stand for Waste Management, it actually stands for his favorite comic book character, "Water Man" who is popular like Super Dan.
Karen is seen in a recurring comic theme on two occasions. One as a cheerleader with Allison, and the other with Mack standing in the high school hallway.
Twister's backwards hat has always been on his character since 1997, but he didn't always used to wear green and red. He used to have a blue hat and a grey shirt with blue pants. Until recently, his shirt was always green and hat red. In the past few years, his shirt became a striped red shirt with blue jeans and his famous red hat. He sometimes wears a green jacket.