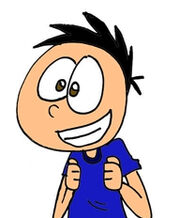 Jack is a character created in 1996 and was the main character for the AJM STUDIOS Comic called Mystery Kids, but then became one of two lead characters for the longest running AJM STUDIOS Comic, Jack & Twister Comics
Jack is the innocent, harmless, love able boy in blue.
Jack was shown in a final 2009 panel comic to graduate high school with Twister.
Relationships
Edit
In the Jack and Twister Comics, Jack's parents have always been Dad and Mom. Their names have never been said, but the characters of Dad and Mom are fairly well developed with Jack. Jack has a sister, Becky. Jack and his family have for sure, one pet. Max has been Jack's dog since the beginning of the cartoon. It was not until a Picture/Text Comic titled, Adoption Who?, did Jack get another pet dog simply named, Dog. Dog lasted in the Picture Text Comics until there end in 2004, even garnering more air time then Max. He never was shown in the panel comics, and disappeared after the end of the Picture/Text Comics. Lizzy was a lizard Jack had as a pet on and off, that often tried to harm Twister.
Jack's closest thing to a foe in cartoon was Willy, based on the Picture/Text Comics and Panel Comics. As time progressed, Willy became more of just a jerk to Willy then a bully.
Jack's best friend is Twister. They have been best friends since at least 1999.
Jack is seen with numerous other people, and always friendly. His closest person to being a second best friend would easily be Sheen, followed by the heavy set, Steve.
Character Development
Edit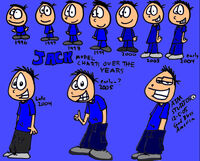 Jack has always been a comic relief since he first was drawn in the early Mystery Kids cartoon. His sister, Becky was the more serious of the two characters. Jack always had two hairs on the back of his head stand on end.
Jack was created and designed in 1996 as a seven year old boy who solved mysteries with his sister Becky and their dog Max. Jack and his sister stared in the cartoon books, The Mystery Kids. The series started in 1996 and ended in 2000. Jack early on starred in both the Mystery Kids and early panel comics, which started in 1999. The panel comics focused more on Jack and Twister which then later became known as Jack and Twister Comics.
In 2001, Jack and Twister starred in their first comic book together as stars. The book was called, Christmas Danger. This was the first book to push Becky aside as a side character. Twister became Jack's best friend and they starred in Picture/Text comic books together until they ended in 2004.
Jack, as well as Twister remained as the main stars in the Jack & Twister Comics in panel form.
Since Jack's creation, he has always worn blue in some form or fashion.
Like all the characters in the series except a few, Jack's last name is never said.
Over the course of the entire series, Jack has had 2 dogs, and 1 lizard.
In the Picture/Text comic books, Jack's main elementary school teacher was named Mrs. Fat. Another teacher was Mrs. Lies.