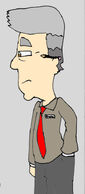 Health Inspector Arlen Johnson is a recurring character in the Grocery Store 101 Comic. According to his ID tag, Health Inspector Johnson works for the Northshore County Health Services Department at Rolling Lane, Shelter Bay, 98037. Arlen is a character in the AJM STUDIOS Comic, Grocery Store 101.
About Him
Edit
Arlen appears to be in his late forties to early fifties.
Arlen Johnson's Reason for being Locked in Marty's Produce Cooler
Edit
It would seem the only person who knows of Arlen Johnson's whereabouts is Marty Shoeman.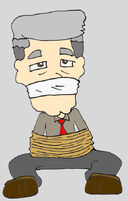 Arlen Johnson has no lines in the series so far, because he is always shown being bound and gagged in Marty Shoeman's produce cooler. According to the episode, The Ballad of Paul Benson, Marty locked Arlen Johnson in his cooler because Alren tried to fail Marty's produce department a month ago. It is for sure known that in this episode Arlen Johnson has been locked up for at least a month, but at the series continues, and he is still locked up, it is unknown how long Arlen Johnson has been locked in Marty's cooler. At various times, Arlen tries to escape. He hides secret plans he writes with a celery stick in his ear, and an old piece of paper which he hides behind a box of lettuce.
At times, like in the episode, Sergeant's Visit, the Greenwood Police Department have indeed been searching for Arlen Johnson. It is for sure known that he is missing. It was in this episode, which took place after The Ballad of Paul Benson that Arlen had still been missing about a month. Sergeant Richard Williams and Deputy Ryan Baker do not find Arlen Johnson after Bruce Grocery offers the two officers fresh donuts. Nobody except Marty Shoeman knows that Arlen Johnson is locked up in the produce cooler.
In the episode, Free Arlen, Marty hastily lets Arlen free. If there was a hidden motive for his quick release, it is unknown.
The relation between Marty Shoeman and Arlen Johnson seems mutual. Marty feeds Mr. Johnson everynight. Other then that, it is unknown the relation between the two. They never appear mad at each other.
Arlen finally reported Shoeman's activities to the police, leading to Marty's arrest. ("Et Tu, Arlen").
Appearances
Edit
The Ballad of Paul Benson
Sergeants Visit
Foiled Plot
The Life of A Health Inspector
Free Arlen