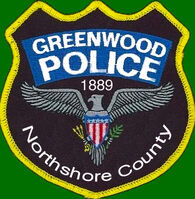 The Greenwood Police Department is located in downtown Greenwood. The station consists of 45 full time police officers who do 12 hour shifts. The station has an area for patrol cars, and a detention center. The station is in the AJM STUDIOS Comic, Grocery Store 101.
The Chief of the department is Kent Owens. The Captain is Gregory Westin. The Sergeant is Richard Williams who frequently visits Mr. Grocery's Store. Deputy Ryan Collins often shadows Sergeant Richard Williams.
Known Police Officials
Edit
Chief of Police - Kent Owens
Captain - Gregory Westin
Sergeant - Richard Williams
Officer - Ryan Collins
In the Grocery Store 101 Comic, the department is looked upon highly. Sergeant Richard Williams and Deputy Ryan Collins get by far the most air time. They often pay frequent visits to Mr. Grocery's Store. Sergeant Richard Williams has a good relationship with Bruce Grocery and Mr. Grocery often offers them free donuts on the house.