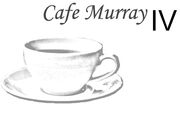 Cafe MurrayEdit
Cafe Murray Threads are popular among a niche following of AJM STUDIOS users. The first one was created on April 30, 2009, and focuses on people talking and asking Murray questions, and he answers them. His thread started a following and a new wave that was reminiscent of 2005-06 AJM STUDIOS style chatter. Since the thread series creation, it has gathered over 3,800 posts. There have been over 11,400 views to his threads.
Cafe Murray is located on the street level floor of the AJM STUDIOS Building facing Union Street in Seattle, Washington. It has an entrance on Union Street as well as an entrance into the AJM STUDIOS Building main lobby.
The menu at Cafe Murray varies, and has specialty menu items during various times of the year, such as Thanksgiving and Christmas.
Cafe Murray closed down when member Murray decided to leave after all his work. It closed and stopped selling goods on March 26, 2010. The thread is still open to questions, but it is unknown if Murray will return to answer them. Everyone agree's that when Cafe Murray closed, it ended a busy and prosperous time for AJM STUDIOS.
In early October 2011, Cafe Murray was reopened. Members Robin and Omar became employees, and people began to talk there once again.
ConflictsEdit
Since Cafe Murray's creation there has been conflict among Cafe Murray and some prominent AJM STUDIOS members. In an article by Ron in Ron's Reasons called Is Cafe Murray Popular? claimed that Cafe Murray was not popular and followed up with some credible, and some non credible facts proving a point. In this article, posted on October 2, 2009, Ron made his first mention of Ron's Bistro which would enter the AJM STUDIOS Building as a rival to Cafe Murray on December 14, 2009. In conclusion to Ron's claim against Cafe Murray, he said,
"Cafe Murray is a sick place, that breaks AJM STUDIOS Rules, and gets away with it. They are dirty and unclean in how they talk. Have double meanings, and is the number one location of crime and possible revolutions that would be started against the AJM Counsel. The place is covered in filth, and needs to be shut down. It brings in unwanted people, and turns good people, Trollis and Omar, into Cafe Murray Trash."
Ron also pointed out that the majority of the threads are from a niche few, and not the majority of AJM STUDIOS. Cafe Murray's owner, Murray, had this to say as a response, "Wow, that certainly was interesting. "