Batsman and Batling

Author
AJM STUDIOS
Illustrator
AJM STUDIOS
Publication date
Created 2010
Published by
AJM STUDIOS
Publication Order
Preceded by

Followed by

Batsman and Batling is a comic series created by AJM STUDIOS in 2010. It is a "mini series" produced by AJM STUDIOS and is distributed by the internet and by word of mouth. The series originally was on a 5 episode release plan, but was upgraded for more episodes. The series takes place in a large North American called Wardill, and stars Batsman and Batling as they try to weed out crime, in their own particular fashion. The series is on hiatus.  Episode 7 was re-released on September 27, 2013 through BYDSA.
On April 19, 2013, all the Batsman and Batling episodes were re-released through Deviant Art.

The series started as a cartoon spoof of Batman, with characters that are similar sounding, but completely different then the real Batman series. The cartoon was tested as a two-time weekly comic that appeared as single panel drawings on white boards inside Cascadia Community College and the University of Washington in Bothell, Washington. Since it's creation, the series has had a cult following, enough so that the series was released online.
It was released in February of 2010.
In June of 2010, the series was announced that it would also be distributed through the weekly series, "Brighten Your Day Say AJ."
September 2011, the series was placed on hold.
Characters
Edit

Batsman is known for slurring his words around and being quite "unknowing" of his surroundings. Thought when it comes time to fight, everyone better watch out, because Batsman swings around aimlessly.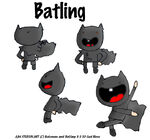 Batling is Batsman's little sidekick, who enjoys watching Batsman attempt to fight crime. Batling is training to be a "Black Bat" as Batsman calls it.
Detective Carter is the guy whom Batsman thinks works side by side with him. Detective Carter works for the police, and is often frequented by Batsman, who he finds dangerous, but everyone else see's as harmless.
The Poker is Batsman's biggest rival, simply because Batsman says so. The Poker is actually an accountant who works at an office building in downtown.
Lisa Shinegold is a newsporter for News Channel 11. She often meets Batsman at awkward times and secretly likes him.
Norman is a bus driver in the city, and is Batsman's "best friend who works on a bus." Because Batsman does not drive, he rely's on the bus system to get him places.
Monteview is a mullet fashioning guy who lives in the city, and dislikes "the man." He tries various times to try and beat the oppression.
Pilot Episode. Batsman's Entrance (Page 1)
1. You's A Criminals? (Page 1, Page 2)
2. Criminals Numbuh One (Page 1, Page 2, Page 3, Page 4)
3. The Poker's Lair (Page 1, Page 2)
4. The Power of Music (Page 1, Page 2, Page 3, Page 4, Page 5, Page 6)
5. Meet Team Justice (Page 1, Page 2, Page 3)
6. The Kitty (Page 1, Page 2, Page 3, Page 4, Page 4 Alternative, Page 5)
7. The Rise and Fall of Wooden Crates (Page 1, Page 2, Page 3, Page 4)
8. Fly Me To The Moon (Page 1, Page 2, Page 3, Page 4, Page 5, Page 6, Page7)
9. The Puppet Show (Page 1, Page 2, Page 3)
10. Behind The Bat Ears (Page 1, Page 2, Page 3, Page 4, Page 5)
11. Halloweens (Page 1, Page 2)
12. Gem Ruse (Page 1, Page 2, Page 3, Page 4, Page 5, Page 6, Page 7)
13. Growing Up In Da' Hood (Page 1, Page 2, Page 3, Page 4)
14. Paper Fight (Page 1, Page 2, Page 3, Page 4, Page 5)
15. The Start of Something New (Page 1, Page 2, Page 3, Page 4, Page 5, page 6)
16. Orders Are Orders (Page 1, Page 2)
Other Media
Edit
Video