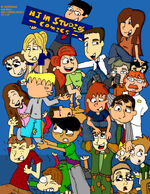 The AJM STUDIOS Comic was a popular comic series created and drawn by USAPatriot. The comic series focuses on the AJM STUDIOS members and their lives around the AJM STUDIOS Building. The series is a big hit with the site members and one of the top attractions on the site. The series started in 2006 and came to an end in 2010, though the characters will be used for other projects.
The AJM STUDIOS Comic was a first of it's kind when the first episode was released in 2006. It featured real AJM STUDIOS.NET members and put them into cartoon form in a panel based comic, that was updated regularly with new updates. The series is by far AJM STUDIOS.NET's number one comic series, and has lead to other comics being released on the site with success. In 2010 the series was placed on hiatus with USAPatriot thinking of a new ways to distibute the series instead of in long episodes. A plan was decided to do short episodes starting in March of 2010. On January 7, 2011, series creator stated the series, "Chances are, the AJM STUDIOS Comic is over. But It is being left open to see if more adventures or time permits to work on it more. While I loved making the series and sharing it with you guys, I can see that times have changed and less current members read it. So am I making it for just twenty, or maybe just ten people to read it? When I can do these other series, I can get over a hundred people or more to read it, without even trying. Not placing numbers on it or anything, but just saying. I would love to continue this series in some way, but am done for now with it."
Below is the season and the comic book name under each season. Summary for each comic too.
AJM STUDIOS: The Comic
When first aired to AJM STUDIOS.NET, mass happiness was seen. It was new, fresh, something the internet world had never seen before: a comic based off members from the Internet. Better yet, the characters could relate to their real counterparts. In this long feature-length introduction to the comic series, whacky character Ubs tries to take over AJM STUDIOS by harnessing the germs off of Kim and Erin. Sven gets into Ubs' plans and acts as a doofy sidekick. It is up to the AJM STUDIOS gang and the S.S.S.S. to stop Ubs and Sven in this thrilling adventure.
Campapalooza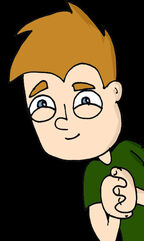 This first episode in season 2 was never finished, but had a good start with Ron and Kim going on a camping trip out into the wilderness. There they meet USAPatriot and the AJM STUDIOS Gang. It was there the season left off, but creator USAPatriot had this story in mind: Ron would try to pay back to the AJM STUDIOS Gang, because he considered them sissy campers in their fancy motorhome, and was jealous that Kim was spending time with them, and not him. He contrives to scare them away, but ends up being scared himself by a lost Ubs.
Idealess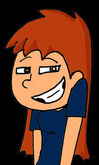 In this comic, Ron and Killerboy try to make up fun schemes to mess with Erin and Kim. All their attempts fail. Character JMT is also stopped by S.S.S.S. members Hoomajocky, Delta7, and Xanderm for his mad love with Erin. This episode was also looked upon as a test episode by many fans of the comic. It used Version 2 Designs of the characters which you can see in a image on this page.
Freezer Folley
This episode went back to version 1 designs of the characters and featured CBfan as a major character, along with Ubs, Killerboy, Hoomajocky, Kim, and Ron. this season was looked upon as one of the funniest yet with ever changed plot twists and misguided adventures as two different groups of members head off into the large somewhat unexplored AJM STUDIOS freezer. One group is looking for pop tarts, the other frozen pies. They meet up with many members this season including Trollis and Joeducttape. Hoomajocky gets jealous after USAPatriot gives CBFan and esteemed "American Flag" pin. Hoomajocky tries to figure out what is he doing wrong as a second in command of the S.S.S.S. and feels threatened about his job status.
Leaving Campaign Trails
This episode features many of the AJM STUDIOS members running for a unknown elected position. The candidates get a run for their money as the plot and twists keep coming throughout the season. Declared the most risky season to date with more realistic situations and a well-thought-out plot line, it would aslo see many new characters introduced based on members who have recently joined the site. The candidates stump, struggle, filibuster, scheme, and make promises up the wazoo. One is even kicked out due to a scandal caused by punching out a reporter in rage. There are a few judicious political jabs at both parties, but not as many as there could have easily been.
Facial Hair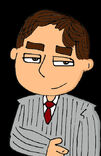 This mini episode of season 3 is looked upon more of a test for styling ques and possible upcoming jokes. In this four page mini comic, Ron, Killerboy, Ubs, Hoomajocky, Dr. Belch, and Fredmickmuffin can be seen in the comic. Ron grows facial hair and it causes quite a stir among a little group of characters in this comic.
Maturity is Not a Virtue
Frankie is captured on tape and broadcasted through AJM STUDIOS News for the world to see his lies! Erin see's the lies and gets angry with him and decides to take revenge on Frankie, to make him get some of his own medicine. She teams up with a group of girls to help her carry out this plan. The Mature Men of Manliness which is Ron, Ubs, and Killerboy, try to help Frankie out but without much success. Erin can only hope her plan works out to get Frankie back, or will the right way prevail over the wrong way of revenge? When the S.S.S.S. gets involved, is it too much?
Germ Warfare
A mysterious bug is getting many AJM STUDIOS members sick. It is up to a select few to find a cure and stay healthy along the way, but will they make it? How many will stay ill-free? The comic features many characters, but also leaves out some secondary characters, but it uses some newer characters too.
AJM STUDIOS Survivor: Cascade Range

It was the most talked about episode to date. It is a spoof of the popular TV Series "Survivor." This was the first time an AJM STUDIOS Comic parodies an actual TV show. The comic has two teams, The Hefty Heffers and the Constipated Calfs. Both teams are split with AJM STUDIOS Members and are all fighting for an unknown prize. They go through many challenges including races, eating nasty foods, and dodge ball. The winner is unknown, which team and individual will win?
Season 4 was planned to be a bunch of shorts, known as mini-sodes. All episodes of season 4 will be available to the AJM STUDIOS Wiki, which can be found here.
AJM STUDIOS Comic Characters
Edit
(Below is a list of characters either mentioned or shown in the comic.)
BaltoRacing
Brittany
CB
Citi
Delta7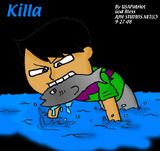 Dr. Belch
Erin
Frankie
Fredmickmuffin
George the Janitor
Hoomajocky
Josh
Killerboy
Kim
Muffinman
Mtnron
Nightspade
Northsider
Ron
Seawa
Shackles
Shego
Sven
Treenbeen
Trollis
Ubs
USAPatriot
Utaro
Valerie
Vince
Xanderm
Other media
Edit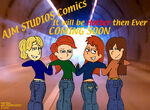 In issue #25 of The Belch Dimension Comics, several AJM members appear in a crowd scene surrounding the body of murdered school newspaper columnist Johnny Tewes. In the following issue a copy of the AJM Studios Comic is visible in the foreground of one panel. Its cover features the series regulars Kim Possible and Ron Stoppable.
In issue #34 another AJM Studios member named Treenbeen appears as "Renee Bent". She works at the East Cinder Animal Hospital, where she is Dr. Houser's receptionist. In issue #52 she appears as a police officer in a Buddy dream sequence.
A character named "Robin 'Remy' Remini" appears as a member of the police department. She has a cameo in "The Case of the Shanghaied Streetwalkers"  (Jun 2009) and a slightly larger role in "The Case of the Beagle Burglaries" (Nov 2009). Officer Remy Remini is modeled after the Robin character from the AJM comic.
The series is written and drawn by an AJM member known as Dr. Belch, who appears in the AJM series as the studio psychiatrist.