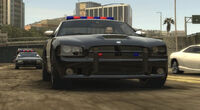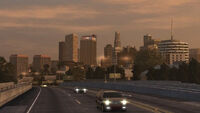 The AJM LAPD is a small group on the Playstation 3 version of Midnight Club L.A.. It is consisted of various AJM LCPD Force officers. Unlike other AJM PS3 Network games, this game is not regularly played or patrolled in, but is often an alternative to Grand Theft Auto. The group was started by Ajmunited, and is well known, even with the limited presence, in the Midnight Club community. At the peak, there was about 20 officers.
The group was created in 2008 but did not get much use until the Police Car expansion pack was released for the game. Usage of the game increased heavily in late 2009 and into 2010. At the games peak in 2010, their was about 20 officers in the force. The force has been known for making due with a limited amount of officers, and often has to outsource to volunteer officers online.
General Information
Edit
The officers follow protocol and restrictions, as well as a strict code and law. All officers must patrol in a marked patrol vehicle. Few exceptions apply for an unmarked Chevy Caprice or Dodge Charger. All officers follow road rules and have a good knowledge of road laws and protocol.
AJM LAPD officers are not allowed to cuss, or show disrespect to criminals. All officers treat others respectably. All officers are also very close to each other in their shift groups. All officers can communicate on the official forum page for the AJM LAPD.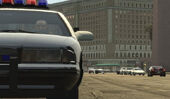 The shifts are fairly unpredictable and are based on when enough officers want to switch over to Midnight Club L.A.. There is not a set shift or schedule for officers, and is only part time.
Divisions
Edit
Los Angeles Police Department - Patrols the city streets and neighborhoods around Los Angeles.
California Highway Patrol - Mostly patrols the freeways and major highways around Los Angeles.
Police Station
Edit
The police headquarters is located in northern Los Angeles in the Hollywood District. Before some patrols, the officers may meet their for briefing.
The group patrols in Los Angeles Police cars and California Highway Patrol cars. they vary from Chevrolet Caprice's to Dodge Charger's. Many of the officers also create their own police cars, based off real police cars in the world. Though they are not allowed to patrol in these vehicles, they show them off to other officers and it has become quite a pass time.