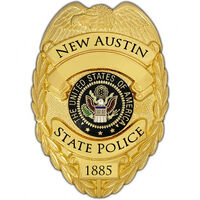 AJM STUDIOS runs the New Austin Law Enforcement Group. It was officially opened on May 18, 2010, the day Red Dead Redemption was released. The force is based on the Playstation 3 platform. The system is set that everyone is part of the New Austin State Police, a term made by AJM STUDIOS. From this state police there are sheriff's and deputies who run certain districts and towns throughout New Austin.
The head of police and founder is Ajmunited. A majority of the officers are also from the AJM LCPD Force, an award winning police force run by AJM STUDIOS for Grand Theft Auto IV. The officers as a whole are known at New Austin State Police officers.
General Information
Edit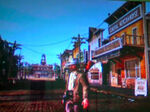 The officers follow protocol and restrictions, as well as a strict code and law. A mode of transportation is not required as some officer may do beat shifts around town, but it is a must for state police and rural sheriffs. Every officer must have a gun, pistol or rifle or both.
The force's main webpage is on AJM STUDIOS.NET.
AJM's New Austin Law Enforcement officers are not allowed to cuss, or show disrespect to criminals. All officers treat others respectably. All officers are also very close to each other in their shift groups. All officers can communicate on the official forum page for the New Austin State Police.
Divisions
Edit
State Police
Edit
The State Police patrol the whole state of New Austin and are made up of all local sheriff's and policemen. If there is a large bounty on an infamous criminal, these officers are allowed to search for the criminal across county lines, all the way up to the Mexican border.
County Sheriff
Edit
The county sheriff is given a main station and an entire county to patrol. Depending on the county size, there may be a substation or two. These counties in New Austin are often called regions as well, because the state is still in development. There are four regions in New Austin. Hennigan's Stead, Cholla Springs, Rio Bravo, and Gaptooth Ridge.
City Police
Edit
If the community is big enough, they may have their own city police officers, that often do beat patrols around the town. The New Austin State Police currently have only one city police department, and that is in Blackwater. They are known as the Blackwater Police Department.
Department Stations
Edit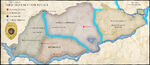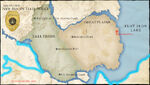 There are stations and substations all around New Austin for police forces. Here are all the stations the New Austin State Police use.
Central Stations
Edit
Armadillo is the county seat of Cholla Springs and is home to the sheriff's office. This office also focuses on protecting Armadillo and the entire county, often going beyond their boundary to MacFarlene Ranch, because they are closer then the Hennigan Stead County Sheriff's office in Blackwater.
Blackwater is the capital of New Austin, county seat of Hennigan's Stead, and home to the only official courthouse in New Austin. The city's police station is shared with the county sheriff and state police offices. The sheriff's department patrols all of Hennigan's Stead County as well as into the Tall Tree's region. They will also respond to calls in Thieve's Landing, Mazanita Post, and the Pacific Union Railroad Camp.
Benedict Point is the smallest of all the central stations and is located on the border of Rio Bravo County and Gaptooth Ridge County. This station services as the main station for this huge area and has a sheriff and his deputies patrol both counties. Rio Bravo and Gaptooth Ridge have very little population and not many settlements. Rathskellar Fork, Plainview, and the ghost town of Tumbleweed are in their jurisdiction, as well as the mining camps that dot the area.
Sub-Stations
Edit
MacFarlene Ranch's substation is located in the rail depot and is sometimes manned by a Hennigan's Stead County Sheriff from Blackwater. If no sheriff is nearby, often the sheriff from Armadillo will respond, even though this is past county lines. Their is a mutual agreement in place.
Thieve's Landing's substation is located in the dockyard warehouse. This area is monitored by the Hennigan's Stead County Sheriff. The town is prone to gangs and violence. When a sheriff is not in town, officers will be sent from Blackwater.
AJM's New Austin State Police Main Page [[1]]